Let me introduce you to the most powerful (and  the most demanding) sales tool in the indie filmmaker's arsenal – The Pitch Trailer.
Also known as a Sizzle Reel, the Pitch Trailer is really a Look Book that moves. With music. It's a trailer for a movie which, you guessed it, doesn't exist. Much like a real trailer, a pitch trailer is created by cobbling together various snippets of video to create a mini-movie, a bite size version of the film that you, the film maker, intend to build.
The Pitch Trailer is also a relatively recent entry into the "cloud selling" business because if you consider how hard it used to be to get your hands on a movie still, just imagine how hard it was to get your hands on movies themselves. Even after the proliferation of VHS tape which could, for the first time, put a movie into the hands of virtually anybody who wanted it, there was still the question of what to do with it. You could cut the tape with a blade and splice it to another, and people did this, but come on. The results were almost guaranteed to be disastrous, unless you had someone with a lot of talent ($) and a lot of time ($$) to create it. So hardly anybody did.
Today, if I want to get footage of Brad Pit chasing Kevin Spacey in David Fincher's ground breaking and visually arresting masterpiece Se7en…
Ok. I was just stalling there. Because unlike an easily Google-able movie still, acquiring actual film footage in a form you can use still takes some time, and it takes some work. But the point is that it doesn't take a prohibitive amount of time and work. And you can probably figure out how to do it yourself which means, in the world of indie film making, that you will figure out how to do it yourself.
Here's a piece of video who's source material I extricated and converted (don't even get me started on the soul crushing process of conversion) and uploaded just for you.
That took me about 15 minutes (you're welcome), and not more than 15 because I already had the source file on my hard drive. If I hadn't, I'd be looking at another hour or so for search and acquisition of a high quality copy. Nonetheless, that's a pretty impressive thing for a guy to be able to do while he's listening to (Purely) Instrumental Trip Hop on Songza. Which, by the way, I highly recommend.
How many segments like this will you need? Up to you. At least a dozen, I'd say. In the case of the All My Sins pitch trailer, I used 38.
As in 38 Special…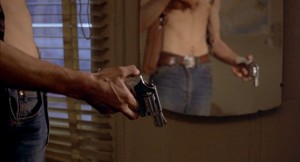 To get those 38 clips (and 32 audio clips), I combed through well over 200 movies and TV episodes. Of course, I couldn't even begin to do that before first staring into space for what seemed like days running film after film, every film I've ever seen, really, through the spindles of my mind in pursuit of just the right shot. Let's take an example. I needed a shot of a police funeral. Any ideas? We all know we've seen it, or we think we have, somewhere. But where? There is that huge (spoiler alert!) funeral for Commissioner Loeb in The Dark Night, but I needed a scene which suggested the inevitability and futility of a policeman's death, not a glorious hero's send-off like Loeb's.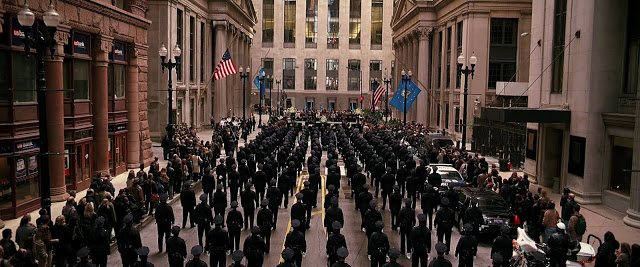 So that wouldn't work. Eventually, I narrowed it down to one of these shots from The Departed…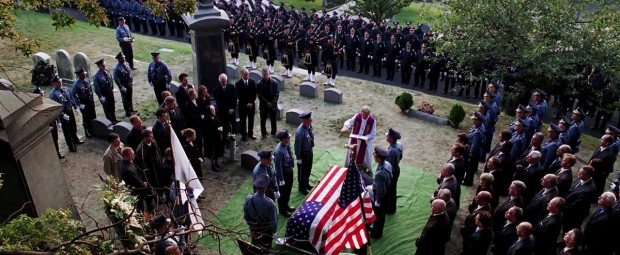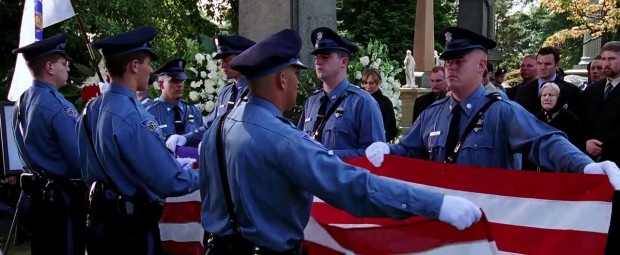 …or one of these from the far more obscure Jason Statham vehicle, Blitz…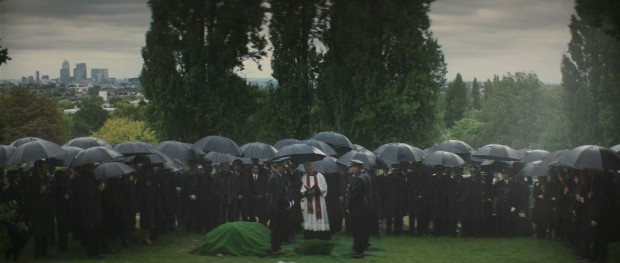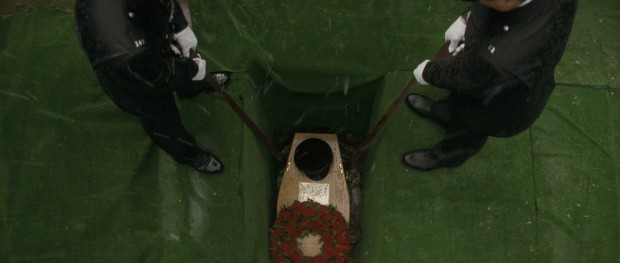 Scorsese's shots are gorgeous, but the rain and muted palette of that Blitz scene conveys a far more dismal end. I wonder, which would you have chosen?
One of the major considerations in putting together a pitch trailer is: how specific do you want to get? What best suits your purpose of giving investors an idea of the film to come? For us, because All My Sins is very much a character piece, a hard and unflinching look at two very strong, complex but very different men, it was essential that we focused on who they are and why. So, how best to represent them? After all, our lead is not yet cast. Would our best move be to choose a star who personifies the character of Sean, our undercover cop, and just go with that?
There are some obvious problems with this approach.  For one, it could be inferred by our use of a particular actor in the trailer (Colin Farrel, say) that this is who we're going to get. But we're a long way from being in a position to speak to that. So if we put Colin Farrel in an investor's mind (he's in yours now, isn't he?) will we shoot ourselves in the foot?
One way to get around this is to use more than one actor to represent our Sean. Kind of spread it around a bit, take the heat off. But when we tried that it just looked like we had a truckload of major characters in our movie, which is not only misleading, it was downright confusing. Suddenly, it looked like we were presenting an ensemble piece a la Seven Psychopaths or, for the love of god, The Big Chill, which AMS most certainly is not.
Another challenge for us arose out of the fact that I will be reprising my role of Gauge ('Logan' in the short). But while I've appeared in a broad spectrum of projects, there were some shots we needed for Gauge that I just didn't have.
In the end, we settled on an approach which we felt addressed all of these concerns. First, we chose a very few stars to represent Sean who fit the general profile (lean, scruffy), any of whom would be a fantastic casting choice. These we contrasted with a very few stars who fit Gauge's somewhat dissimilar profile (beefy, shaved head). Second, we constructed the trailer in such a way as to make it more clear that we were dealing with only two characters: 1) By alternating from Sean to Gauge and back again throughout the piece, and; 2) by having someone speak as Sean over his bits, while someone else spoke as Gauge over his.
As Randy and I are both professional voice-over actors, we recruited ourselves for the job… but were shocked to discover that no matter what we tried, short of going way over the top, our voices were almost indistinguishable from each other. I, for one, had no idea he had such a sexy voice (ahem). This created a huge problem, because now we had a half dozen actors appearing on screen with what everybody thought was one guy talking about them.
We'd created a beautiful trailer that made absolutely no sense.
Our solution was to find another actor to voice Sean. One that was as talented as Randy, sounded nothing like me, and was available. Not an easy task, unless you're lucky  enough to know one of the most talented voice-over actors around, the inestimable Mark Meer, voice of Mass Effect's Commander Sheppard.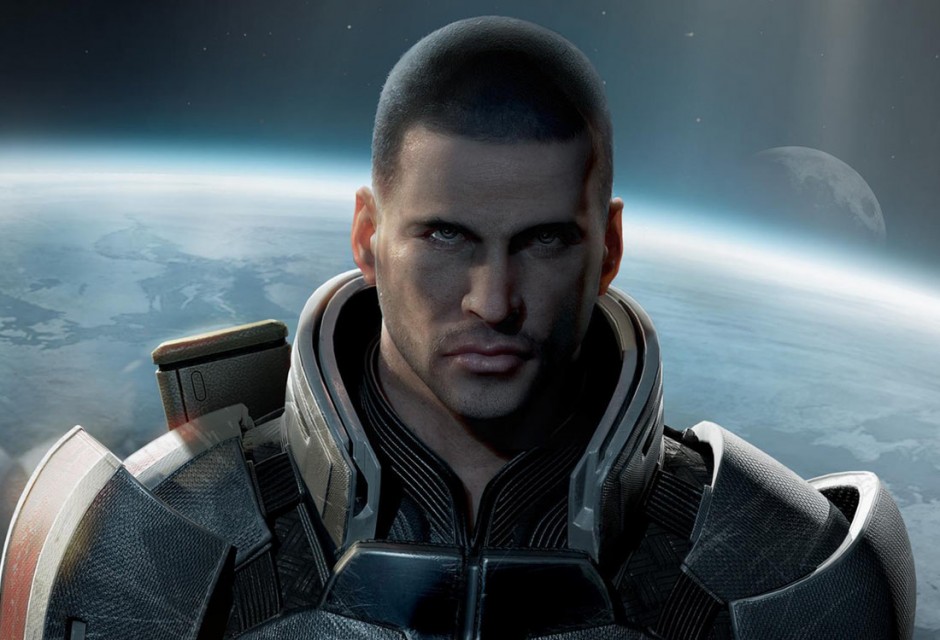 Besides being über-talented and a good friend, Mark's one heck of a guy and he managed to make time for us between seemingly endless sortés to Europe and the U.S., slaying 'em with improv and meeting his fans at conventions. And,  of course, he nailed it.
Houston, we have a trailer.
Please, help us spread the word! Share this post and like us on Facebook for more updates!